It is a portal solution for secure storage, organization, sharing and access to information at any time and from any device. It is based on the organizational structure of CTU using Microsoft ® SharePoint ® product.
Available for
Students, Employees, Partners
Benefits and key features
Notice:
VIC ČVUT does not back up data in the Microsoft Office 365 environment. You can find more information on this page.
With the application you can quickly create a team website, track documents, share documents, work in a team, organize meetings, and have all your documents in one place. MS Office documents can be used simultaneously by more users. Deleted data can be easily recovered from the Recycle Bin. Metadata adds additional information to the document to make it easier to find the file and to simplify filtering. SharePoint enables you to add custom applications to help with the given function or display a lot of important information.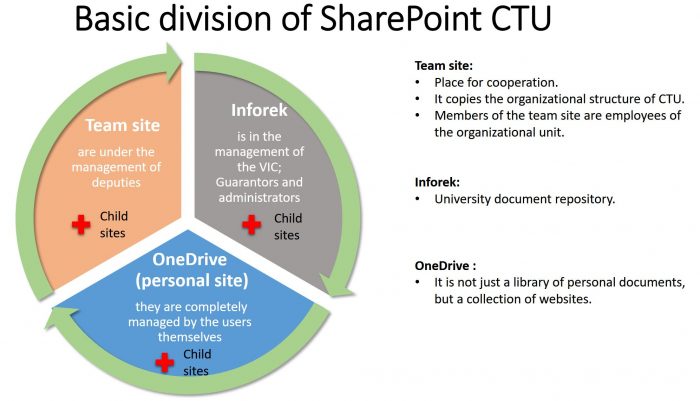 The three basic sharepoint groups have assigned permissions that correspond to user access rights. Only the group "Site Visitors" can read, the second "Site Members" group (employee of the organizational unit) can edit the documents, and the last group "Site Owners" (head of the organizational unit or its deputy) changes the site settings. Folders and documents in default settings take over permissions from the site.
Team site – A site for cooperation is called a team site. Team sites copy CTU organizational structure and by default only employees of the given organizational unit are allowed to access them. For example, you can use a team site to store and cooperate on files or to create and manage lists of information. On a team site home page, you can view links to important team files, apps, and web pages and see recent site activity in the activity feed.
Site pages – Using pages is a great way to share ideas using images, Excel, Word and PowerPoint documents, video, and more. You can create and publish pages quickly and easily, and they look great on any device.
List items – You can include various lists in your SharePoint site, such as contacts, calendars, notifications, and problem tracking.
Versioning – When versioning is enabled in your SharePoint list or library, you can store, track, and restore whenever they change.
Sharing – The files that you store on a SharePoint site are usually available to everyone with permissions to the site. You can also share specific files or folders with people who don't otherwise have access to the site. When you share files and folders, you can decide whether to let people edit or just view them. You can stop sharing at any time.
Document Library – A document library provides a secure place to store files where you and your co-workers can find them easily, work on them together, and access them from any device at any time. For example, you can use a document library on a site in SharePoint to store all files related to a specific project or a specific client. Adding files or moving files between folders is easy – just drag and drop them from one location to another.
Document collaboration – Multiple users can work together on a Word document, Excel spreadsheet or Powerpoint presentation with Office and OneDrive or SharePoint.
Applications – There are small, easy-to-use stand-alone applications for SharePoint. By adding apps to your site you can customize it with specific functionality or display information such as time and expense tracking, etc. You can also add applications that display news or information from third-party websites or that connect to social websites.
Synchronization – OneDrive (for Business) is available for desktop computers (Windows and Mac OS X) and mobile applications (Google Play and App Store), and lets you attach and synchronize files (documents, photos, or videos) from OneDrive and SharePoint websites. The files are then available on your computer, mobile phone or tablet.
Personal site (My Sites) – A My Site is not just a personal document library (OneDrive), but a collection of websites where a user can set up own subsites for his projects, which he can then share with a group of chosen users.
Getting started
Limits and restrictions
Get started with SharePoint
Customize permissions for a SharePoint list or library
SharePoint Online Training
Document collaboration and co-authoring
Mobile application set up
SharePoint Help Center
Understanding permissions levels in SharePoint
Notice:
VIC ČVUT does not back up data in the Microsoft Office 365 environment. You can find more information on this page.