Service for uploading, viewing and sharing videos within CTU.
Available for
Students, Employees, Partners
Benefits and key features
Notice:
VIC ČVUT does not back up data in the Microsoft Office 365 environment. You can find more information on this page.
Thanks to Microsoft Stream, people at CTU can safely upload, view and share videos. It is possible to use it to share classes, meetings, presentations, training sessions, or other videos to support teams collaboration. Stream also makes it easy to add comments on video and tag timecodes referring to specific moments in the video. Stream also helps you organize content into channels and groups so it is easier to find the video.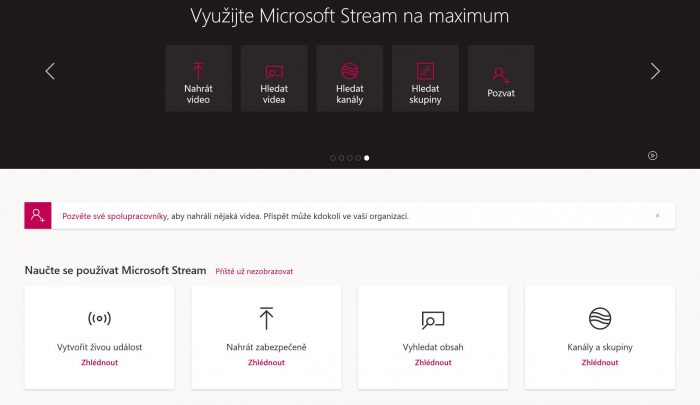 Share anywhere – You can share and upload videos and short clips easily and securely.
View from anywhere – You can watch your videos wherever you are – streaming works across devices and video quality automatically changes with the quality of data connection.
Watch and play – Customize your playlist and store videos you want to see or share.
Access by groups – Due to full integration into CTU IS, groups are an easy way to organize videos and channels, set up viewer permissions, and add other contributors.
Organize by channels – Channels offer a great way to categorize your videos and search or view them according according to interest.
Channels let you control things – Create channels for your company departments, events, or specific topics, and add descriptions and hashtags.
Access possibilities – Creating subtitles allows viewers to read what is heard in a video if they can't watch it out loud.
Detect faces – Face recognition shows where exactly each speaker appears in the video, and allows you to go to any specific part.
Video added value – Videos can be loaded to SharePoint websites and presentations, or third-party applications.
Getting started
Microsoft Stream Documentation
Create a group
Download Microsoft Stream videos
Search for channel, groups and videos
Categorizing and organizing videos