University-wide multi-license for all platforms (since 2014 together for the University of Chemistry and Technology, Prague).
Available for
Students, Employees
Requirements

2022
The new version is in the world and the distribution and operation of license servers is being prepared.

Students will start using it from the winter semester WS 2022/2023.
Distribution of the academic version of Maple 2021 for CTU (and UCT) employees is ready, students will start using it only in the winter semester 2021/2022.

Installation * .run (or * .exe and * .dmg) for employees are available at https://download.cvut.cz/, stand alone activation only on reques.
For non-binding trial/testing Download a Free Trial of Maple. Similarly, the hot new Pocket Maple Calculator App for smartphones, available on Google play, can come in handy.
License servers are operated by two faculties and CIC, and for normal installation (computer connected to the faculty network – VPN is sufficient) users take the password from them.
maple.feld.cvut.cz
newton.civ.cvut.cz
newton.fjfi.cvut.cz 
All use access port 27000 and provide licenses for Maple 2021, 2020, 2019, 2018, 2017, 2016, 2015 and 18. Next year, however, we will reduce the number of old versions (probably to the last 4 – 5).
---

 2020        
The 2020 version came to the Czech Republic as well as the COVID-19 at the beginning of March 2020 and remained in quarantine for some time – only in limited observation/testing.
Student installations for the summer semestr 2020/2021 are available at https://download.cvut.cz/, where there are other instructions for obtaining a student PURCHASE CODE, which is necessary for activation and has a limited validity (usually for the period of the current semester –

now until September 19, 2021).
---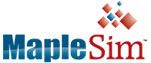 From 2022, it will again be part of volume licensing and network license servers; several trial versions will be available based on user demand.
---
Before you begin