Tool for collaboration, planning, monitoring and communication about your work projects.
Available for
Students, Employees, Partners
Benefits and key features
Organize your teamwork and achieve higher productivity. With Planner, your teams can easily create new schedules, organize and assign tasks, share files, chat about current business issues and get updates on the progress of projects.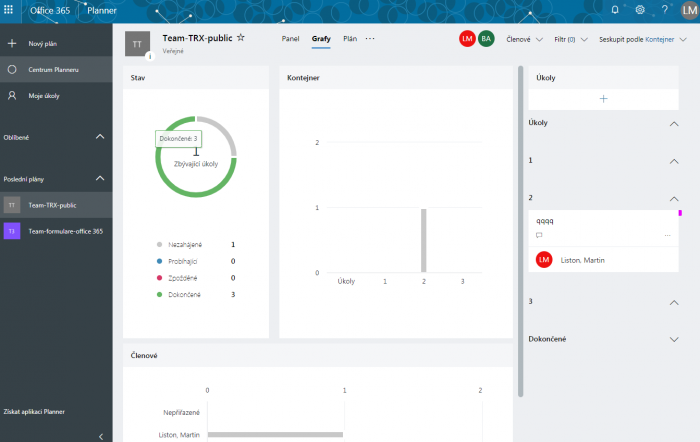 Create a plan – When you create a plan, you also create a new Office 365 group at the same time. This way you ease the cooperation between you and others not only in Planner but also in OneNote, Outlook, OneDrive and other tools.
Add tasks – When you create a plan, you can add tasks to list of what needs to be done.
Start and due dates – start date and due date can bring some structure to your plan, so your team will know what will happen and when.
Create buckets – After adding tasks, you can sort them into buckets. This will help you break things up into phases, types of work, departments, or whatever makes the most sense for your plan.
e-mail notifications – Planner gives you two ways how to be informed about important changes. It enables you to set email and mobile app notifications.
My tasks – It lists all your tasks and their status in all your schedules. When working together on a plan, team members always know who is doing what/working on it.
Adding users and their assignment to tasks – In Planner, you can select users and assign them to projects. You can also assign them specific tasks according to their project activity.
Getting started
Create a plan
Add tasks
Collaborate with your team
View progress of your plan
Microsoft Planner Help
Notice:
Microsoft backs up services in the event of a global failure. You can find more information on this page.
VIC ČVUT does not back up data in the Microsoft Exchange online environment (Office 365) for the needs of individual recovery requests.