Parking in the car park under the building of the Faculty of Architecture
Available for
Students, Employees, Partners
Benefits and key features
entrance from Bechyňova street,
short-term parking,
long-term subscribed parking – Abonent service,
subscribed parking in 2 forms:

abonent A – full-time parking 24 hours a day/7 days a week for an agreed period,
abonent B – parking on weekdays between 6:00 and 23:00,

parking is a paid service

,
parking users choose from options listed above what suits best their current needs,
it is possible to switch between individual forms during the year.
Requirements
valid CTU card,
payment of fees in TZS or Abonent.
Getting started
Parking is guided by these Operational Rules. (in Czech only)
Payment scheme of parking forms. (in Czech only)
Notice
If you enter the car park with a key fob, it is also necessary to leave with the key fob. If you enter the car park using the CTU card, you must also leave with this card. It is not permitted to enter the car park with the key fob and leave with the card and vice versa.
In case of trouble, contact the FA reception.
Short-term parking is paid by placing a CTU card (or a keyfob) to the terminal on the first underground floor next to the lift. It is necessary to have enough funds on the TZS account.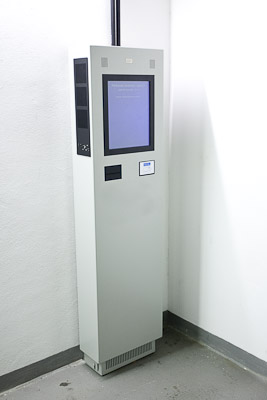 Payment
before your departure, place your card to the terminal,
information about payment will appear on the screen,
after payment is confirmed the receipt will be issued,
if you do not have enough money on your account, you can make a cash deposit in the CTU Card Office, or at the payment terminals near FSv entrance and at FEL; the deposit is credited to your account immediately. An employee can also agree with a deduction from salary in favor of the TZS account for this purpose.
Note
University parts located in the FA building, Thákurova 9, Prague 6 + FSv are entitled to two parking spaces for FREE, other parts located in the Dejvice campus are entitled to one parking space for free (parking spaces for faculty cars or visits).