This type of card is primarily used to allow temporary entrance into CTU premises.
Available for
Partners
Benefits and key features
Enabling access to CTU premises with limited public access.
Requirements
This card can only be issued to an authorized person on the basis of a written application form from the head of the CTU department. The application form will be submitted to the CTU Card Office. Its employee will check the accuracy and completeness of information required and requested cards will be prepared. Takeover of cards is confirmed by a signature of the authorized person who will distribute them to relevant holders.
Application Form for Transferable Cards issuance (in Czech only)
Costs are paid by the faculty or the university part requesting the card.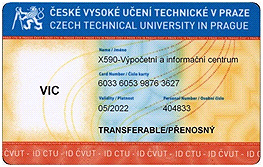 Getting started
For more information see the rules: Podmínky pro vydávání a používání průkazů typu přenosný ČVUT (in Czech only).
Some operations related to card issuance and complaint are subject to a fee. See the Price List for details (in Czech only).