Cancel a print job
If you send multiple jobs for printing at the same time and the printer fails, you can cancel the jobs at https://tina.cvut.cz. If you do not cancel the jobs, the printer will print them and charge a fee for them after resuming its operation. You can cancel the jobs in a "Print Queue" only.
Removing the Printer from Windows 7
There are three steps to remove the printer:
1. remove the queue by removing the printer from the "Devices and Printers"
2. remove the driver – can be done with administrator rights from server properties, drivers (server properties will appear in upper bar after 1x click on one of the printers)
3. remove the print port (in our case SageQ port) – from the installation directory by running unins.bat file
4. If you do not have the unins.bat file, the driver and port can be removed from print server settings: Start -> Devices and Printers -> Select "Print Server Properties" in the top bar (appears after selecting any printer), select the tab "Ports", "Change Port Settings" button, find the SAFEQ001 port and select "Delete Port". Similarly, you can also remove the driver in the "Driver" tab.

Save a print job
After you send a task to print, we recommend you to check that it is stored correctly. If the "Magnifier icon" is missing, the job will not be printed. This may be due to a momentary outage or weak wi-fi signal.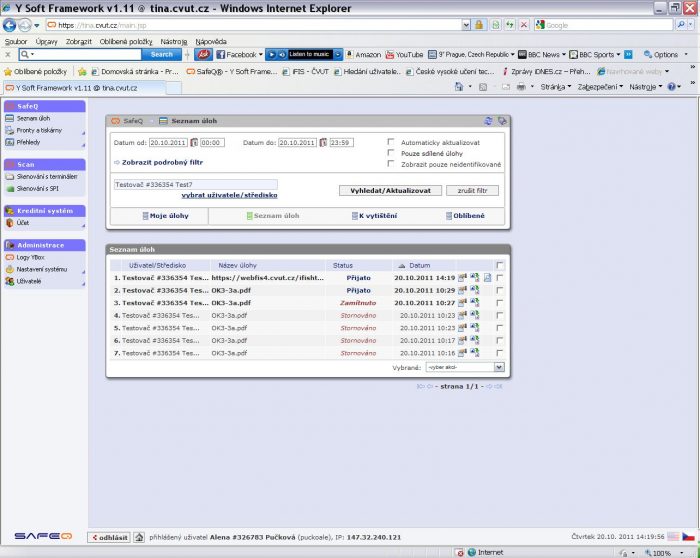 .
Print on Olivetti device in CIPS
2-sided print is possible only after sending a print job from CIPS computers where the driver for Olivetti is installed. These jobs cannot be printed elsewhere than on Olivetti.

Set the page format
You will do this directly in the application where the page is created. We do not recommend setting the format in "Printing preferences".